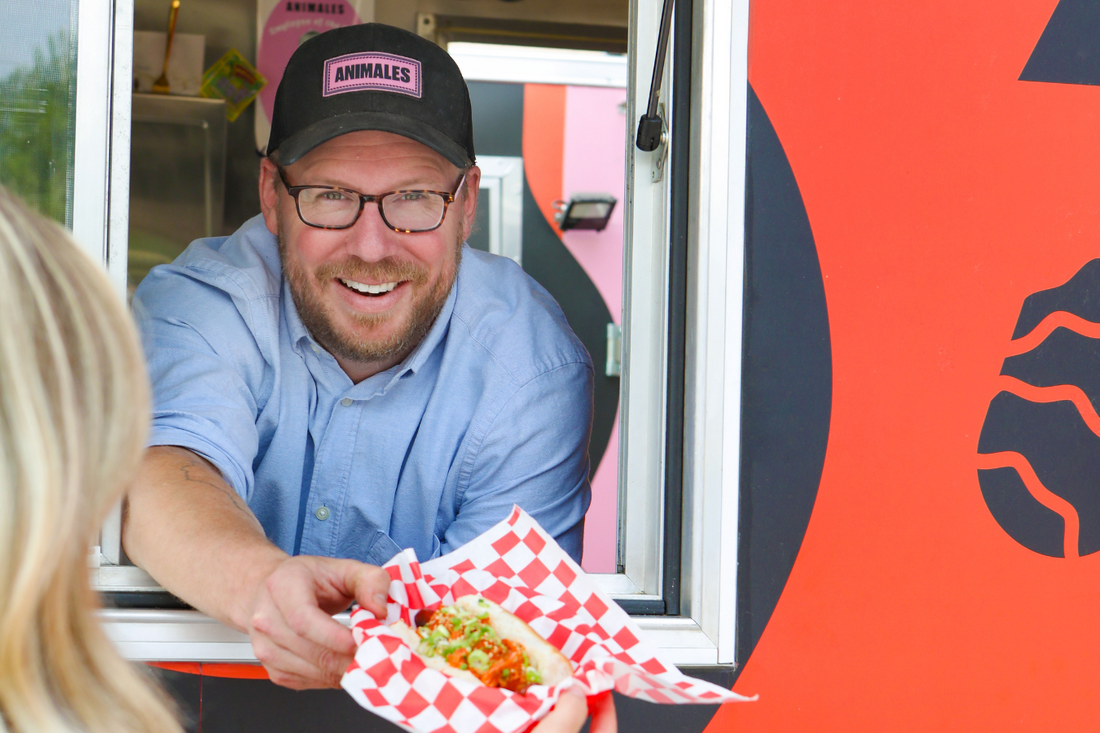 A Twist on Classic American Recipes with Chef Jon Wipfli
Copied to Clipboard
With 4th of July around the corner, we can't stop thinking about our favorite summer foods. Lucky for us, Minneapolis is home to one of the most talented barbeque chef's around, Jon Wipfli, owner of Animales Barbeque Co. Jon created some special recipes for us to share with you. So, armed with our grilling supplies and some charming tableware, we made our way to Jon's place to fire up the grill.
While these recipes will leave your guests coming back for seconds, we believe presentation is key, and independence day is the perfect time to get a little festive. No shade to party supply stores but we don't mind spending a few extra bucks for high-quality, classic decor you can use time and time again. There's nothing more timeless (or durable) than some classic red, white, and blue enamelware – check out this vintage style serving ware from Crow Canyon or this swirl pattern from Golden Rabbit that has us feeling nostalgic.
And if you're looking to minimize the number of dishes to wash, these charming reusable food baskets with red and white checkered paper are a much cuter option than red, white & blue paper plates.
The Kimchi Dog
Ingredients:
Four, freshly made hot dog buns
8 ounces kimchi
4 quality dogs
2 ounces gochujang
8 ounces mayo
1 ounce rice wine vinegar
½ cup sliced scallions
4 teaspoons toasted sesame seeds
Instructions:

For a well-crafted hot dog, it's essential to start with quality ingredients. Visit your local butcher and baker to source top-notch dogs and buns.
Start with the gochujang mayo recipe. To prepare this, combine and mix the mayo, gochujang and rice wine vinegar.

Remove the kimchi from the jar and cut it like a classic coleslaw, thin strips. 

Grill your dogs and toast your buns.

Spread some of the mayo on the buns, put the dog in, then top with kimchi slaw, scallions and sesame seeds and you're good to go!
Pimento Cheese Dip & Ritz Crackers
Ingredients:
8 ounces shredded sharp cheddar

2 ounces softened cream cheese

½ cup minced fire roasted canned peppers

4 TBSP mayo

1 tsp paprika

1 tsp chili flake

1 tsp salt

Ritz cracker
Instructions:
This one couldn't be easier!
Put everything into a Cuisinart mixer with a paddle attachment and whip until its fully combined. 

Serve with Ritz!
No mixer? Simply combine all the ingredients in a mixing bowl and use an electric hand mixer or a whisk to whip them together until fully combined.
Corn on the Cobb
Ingredients:
Four corn on the cob
2 cups tallow
¼ cup of ground chile de arbol
½ cup of cheese powder
½ cup of minced chives
Tajín
Instructions:
Tallow (red fat) recipe:  
On a pan on medium heat, warm your talo until it becomes a liquid. 

If you like a little heat, mix in the Chili de arbol to your tallow–if not, skip to step 5.

Stir for about 5 minutes or until it smells toasty then remove from heat. 

Run the red fat through a coffee filter to remove the pepper flakes. 

Keep the tallow warm in a baking pan.
Grill your corn:
Remove husks from corn, if applicable.
Place corn on the grill for about 15-20 minutes on medium to high heat. 

Remove from grill and coat the corn in your tallow (red fat) mixture.

Sprinkle with Tajín, cheese powder and chives to garnish!