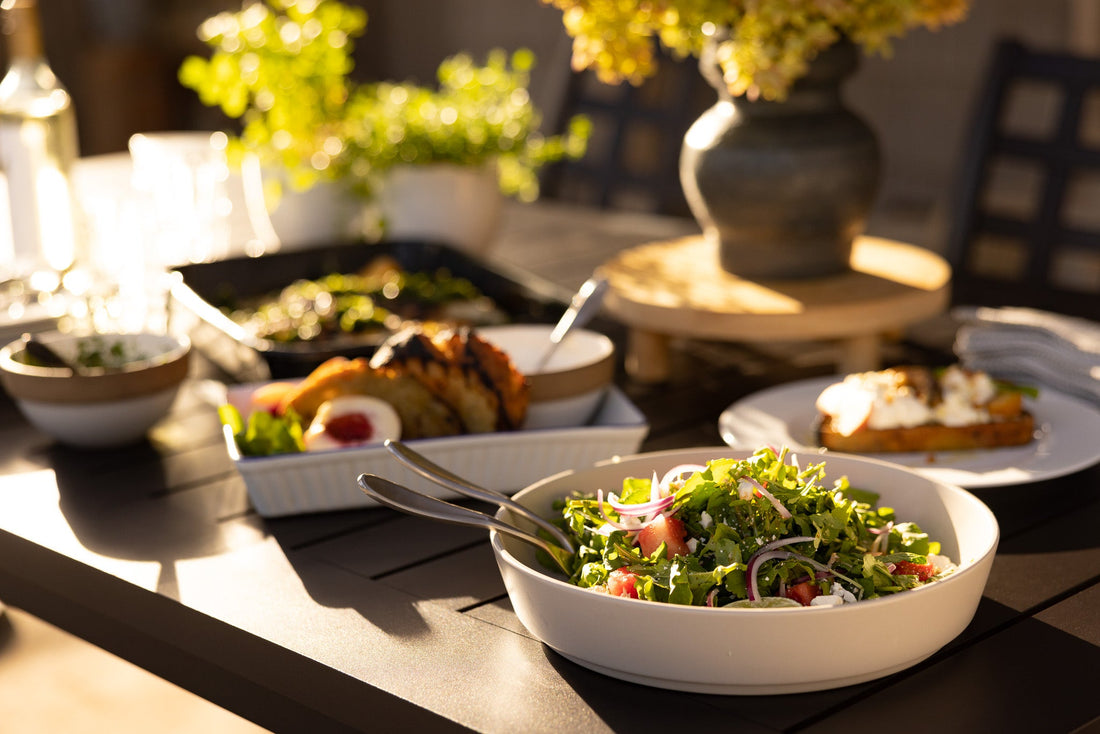 Easy & Delicious Summer Recipes with Chef Chase Elder 
Copied to Clipboard
We traveled to Ojai, California to partner with the incredibly talented chef, Chase Elder. We had so much fun learning the ins and outs of making easy delicious summer recipes. We can't wait to hear what you think! Let us know in the comments. 
Whole Grilled Branzino
Ingredients:
Small branzino (Scaled and gutted – you can request your fish monger to do so) 
Fresh thyme
1 fresh lemon
1 cup olive oil
2 Bay leaves
Kosher salt
Fresh parsley
2 tbsp capers
Chili flakes
Toothpicks           
Instructions:
Prepare the sauce

1. Wash & dry parsley
2. Finely chop parsley 
3. Mix parsley with olive oil, zest of one lemon, the juice of one lemon, capers, a pinch of chili flake, and salt to taste.
4. Wisk slightly with a spoon.
Prepare your fish

1. Score the skin on both sides by making 1 vertical slice and 2 horizontal slices. It should create a diamond-like pattern
2. Slice a whole lemon
3. Slice open the belly of the fish
4. Stuff fish with fresh thyme, a few bay leaves, and 2 lemon slices
5. Using toothpicks you will close the belly of the fish so the herbs and lemon don't fall out.
Prepare your grill

1. Preheat grill to 400-500 degrees
2. Drizzle olive oil over the fish and season with salt
3. Place the fish on hot grill and flip after roughly five minutes. Once flipped leave on grill for a few more minutes. You can use a meat thermometer to check the internal temperature - 145º
4. Remove from grill and place onto a platter
5. Add a few spoonfuls of parsley sauce and a lemon cut in half
6. Serve hot and enjoy :)   
Peach Iced Tea
Ingredients:
Oolong tea bags (according to package instructions and desired portions)

2 cups water⁠

2 cups sugar⁠

4 fresh peaches sliced (or one 16oz bag of frozen peaches)⁠

Ice

Fresh mint sprig (for garnish)⁠
Instructions:
Peach simple syrup:
1. In a saucepan, bring water, sugar and 3 peaches to a boil on the stovetop. Stir occasionally until the sugar is completely dissolved.⁠
2. Once the sugar has dissolved, remove the saucepan from heat and allow the mixture to steep for a few hours or overnight, allowing the flavors to infuse.⁠
3. After steeping, strain the peaches from the syrup using a fine-mesh strainer or cheesecloth. Store the peach syrup in an airtight container in the refrigerator for up to 1 week.⁠
To assemble:
1. Brew the oolong tea according to the package instructions and desired portions. Set it aside to cool.⁠ 
2. In a pitcher, add peach simple syrup.⁠ 
3. Fill the remainder of the pitcher with the cooled oolong tea.⁠ 
4. Stir the tea and syrup together until well mixed.⁠ 
5. Pour the mixture into a glass filled with ice.⁠ 
6. Garnish with a fresh peach slice and a sprig of mint.
Grilled Peach & Burrata Toast
Ingredients:
Fresh peaches

                

Fresh basil 
Sourdough boule 
Burrata cheese
Pine nuts
Olive oil
Maldon salt
Instructions:
1. Preheat your oven to 350º
2. Toast 1⁄2 cup of pine nuts until golden brown / about 6 minutes
3. Slice bread into 1/4 inch slices
4. Cut peaches in half
5. Remove the pit of the peach
6. Slather the peaches & bread in olive oil and season with salt
7. Grill peaches & bread. Grill both until you see nice grill marks. The peaches should also start to carmelize 

To plate :
Slice your peaches into quarters then layer peaches and burrata on grilled bread. Add torn basil leaves and toasted pine nuts then drizzle with olive oil and sea salt!
Watermelon & Arugula Salad                        
Ingredients:
Baby arugula
1/2 cup seedless watermelon cubed 
Ricotta Salata or feta cheese
1 tbsp Calabrian chilies (jars are available at Whole Foods)
Fresh lime
2 tbsp honey
2 tbsp white wine vinegar
1/4 cup olive oil
1 tsp Kosher salt
Instructions:
Dressing
In a small bowl whisk together chilies, honey, white wine vinegar, olive oil, salt, and juice of 1 lime
Salad
1. Toss watermelon and two big handfuls of arugula with vinaigrette
2. Shave ricotta salata on top with a vegetable peeler or a cheese grater. 
**If you're subbing with feta, crumble and sprinkle on top