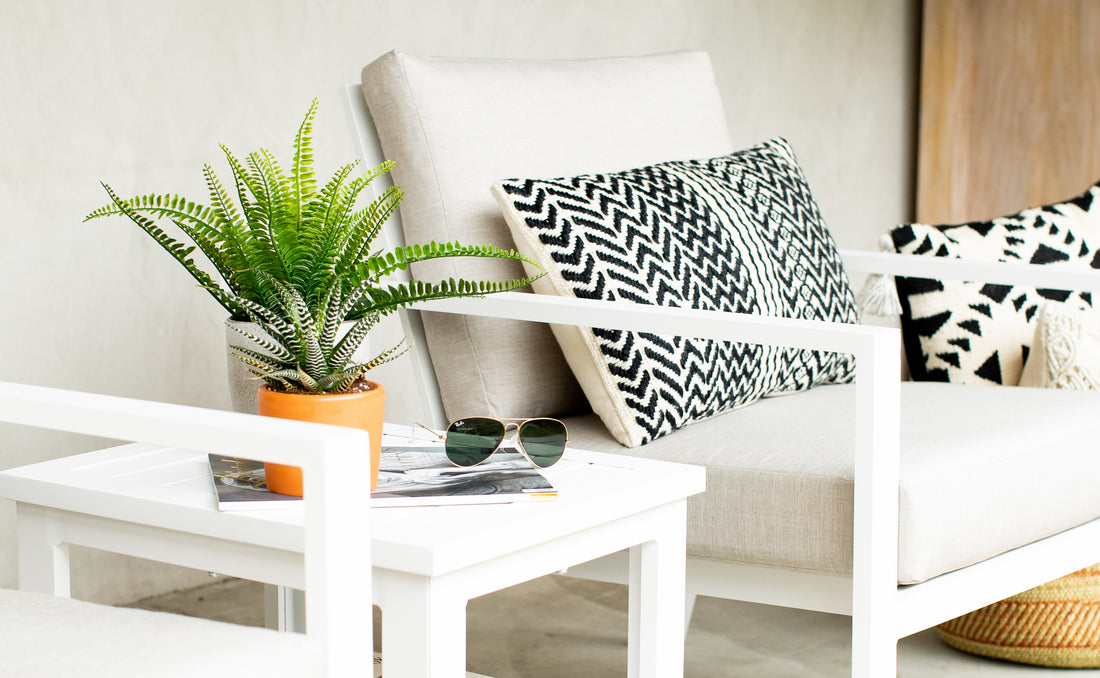 Caring for Your Cushions
Copied to Clipboard
Excited about your new outdoor furniture, but worried about keeping it looking beautiful? We totally get it, and promise you're not the only one asking… "Are they waterproof? Do I need to cover them? What if my kid spills mustard on them?". The good news is we're here to relieve that stress so that you can enjoy the great outdoors worry-free. 
We know that some of our favorite activities can leave a mess, which is why we choose to exclusively use Sunbrella fabrics. We've done a ton of research into outdoor fabrics and Sunbrella has done an incredible job making fabrics that will stand the test of time.  These fabrics are designed to be easy to clean, UV-protective, and stain, fade, water, and mildew-resistant so they will do all the heavy lifting for you. But, we have a few tips and tricks to help you keep your furniture looking extra clean through years of sunshine, backyard BBQs, and bird droppings.
Get in the habit of brushing dirt and debris off your cushions. Sweep the surface with a soft bristle brush and rinse with water as needed. This will keep the dirt from becoming embedded in the fabric.
Clean with a gentle cleanser. Prepare a solution of 1/4 cup mild soap per gallon of lukewarm water. Use a soft bristle brush to clean, allowing the cleaning solution to soak into the fabric. Rinse thoroughly to remove all soap residue and let the fabric air dry. 
So about that mustard drip… Wipe it up as soon as possible! Follow Sunbrella's step-by-step stain treatment method for best results: 
Blot (don't rub) liquid spills with a clean, dry cloth.  For oil-based spills, apply an absorbent such as corn starch, then remove with a straight edge.
Spray on a mild cleaning solution of soap (such as Woolite® or Dawn®) and water.
Rinse the fabric thoroughly to remove all soap residue.
Air dry.
Tough stain? Click here for a solution. 
Remove mold and mildew–because no one wants to sit on that! Sunbrella fabrics do not promote mildew growth, however, mildew may grow on dirt and other foreign substances if not removed from the fabric. To remove mold or mildew: 
Prepare a solution of 1 cup of bleach and 1/4 cup of mild soap per gallon of water. 
Spray on the entire area and allow to soak into the fabric for 15 minutes.
Clean the entire surface area with a sponge, clean towel, or very soft bristle brush.
Rinse thoroughly to remove all soap residue.
Air dry.
Tuck cushions under furniture covers when they are not in use. The covers will protect them from the elements, helping to keep them clean and prolong their life. If you have yet to get your covers, we recommend taking your cushions indoors. If neither of these is possible, simply flip up the seat cushions so they are not sitting flat, this will allow water to run off instead of pool up.  
Rain wasn't in the forecast? Don't worry, your cushions will survive but make sure you allow them to dry. Properly drying your cushions is essential for the longevity of the foam. We recommend unzipping the cushions and propping them up to dry so the water can drain out the bottom. Cushions will typically require 1-3 days in the sun to completely dry - though humidity and other weather conditions can extend this timeframe.  
All good things must come to an end. If you live in a climate where temperatures fall below freezing, remove your cushions and store them indoors during the winter months. Avoiding the extreme temperatures will keep your cushions looking new season after season.
 Now that you know how to care for your cushions, let's get outside!