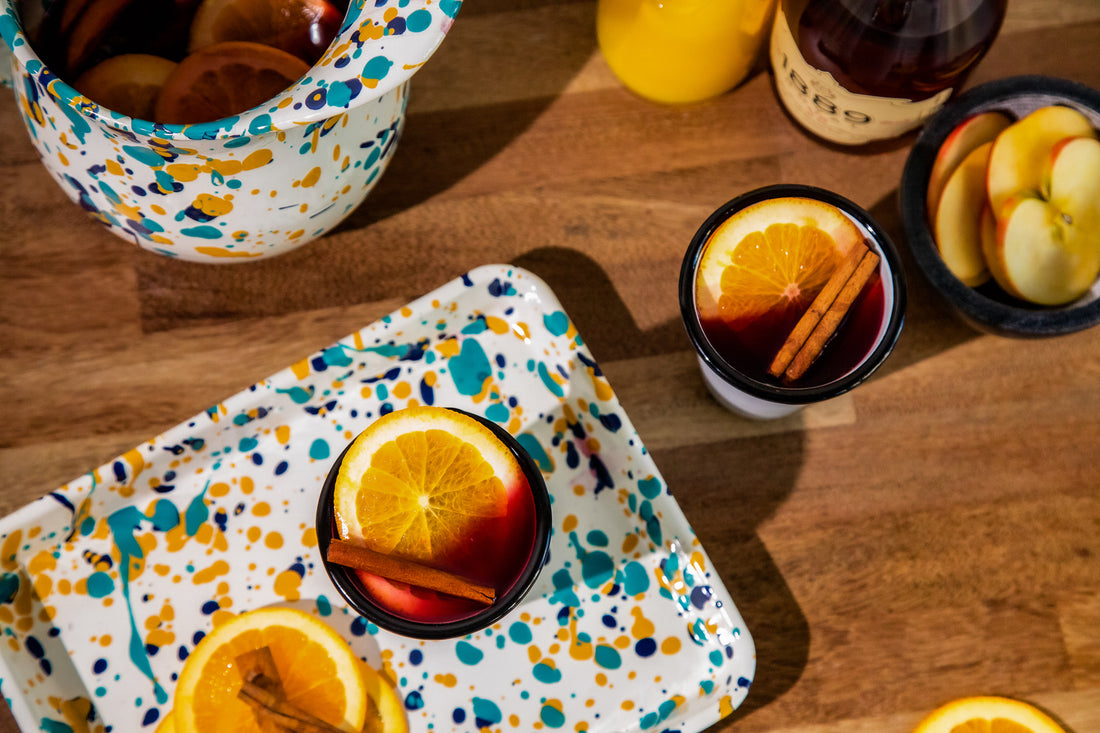 Our Favorite Fall Cocktails & Mocktails
Copied to Clipboard
Call us basic, but we love fall. And yes, it's sad to say goodbye to beautiful summer days on our Ludlow Sofa. That said, we, just like literally everyone else, couldn't be more excited to curl up with a pumpkin spice latte in a cute cozy sweater and light a fire. 
We used our test lab to do some very difficult "research" in hopes of finding you the best fall cocktails. We also included some of our favorite kitchen pieces & ingredient selections which are all linked below, you're welcome. 😉
The Basic Margarita 
This is a twist on a classic. Is it really a margarita? Probably not. Doesthat make it any less delicious? No. Best part? It takes less than 5 minutes to make. Alright, let's get into it…
We're in love with this very subtle autumn-style cocktail glass by Michael Aram (it's a splurge).
Ingredients 
2 ounces Reposado (Budget: Espolón, Splurge: Tequila Ocho)
1/2 ounce orange liqueur (try this Foret D'Oranges Orange Cognac) 
4 ounces apple cider
Juice from half a lime
1-2 teaspoons maple syrup – this stuff is incredible, and available on Amazon
Cinnamon sugar and flaky sea salt, for the rim 
Apple slices and cinnamon sticks for garnish 
Instructions
​​Mix equal parts cinnamon sugar and sea salt. 

Run a lime wedge around the rim of the glass and coat in mixture. 

Combine the tequila, orange liquor, apple cider, lime juice, and maple in a cocktail shaker (check out Cocktail Emporium for amazing bar tool sets) 

Add ice and shake to combine. 

Strain into the glass. 

Garnish with apple slices and cinnamon sticks. 
Make it a mocktail: Treat yourself to some Zero-proof tequila or make it simple and just add a splash of sparkling water!
Spiked Spice Martini
Pumpkin spice and everything nice. This fall twist served as the perfect after-dinner cocktail for relaxing by the fire table and digesting our favorite fall comfort foods.  
We snagged these classically retro, yet timeless coupe glasses from Crate & Barrel.
Ingredients
1.5 oz Vodka (Budget: Reyka, Splurge: Crystal Head)
1 ounce Coffee Liqueur–give Cafe Granita a try! 
1.5 ounces Pumpkin Spice Simple Syrup (Cake n Knife's homemade version is to die for, but Pumpkin Spice Syrup does the trick)
1 oz Espresso, freshly brewed
Three whole coffee beans, garnish
Optional: if you like your drinks creamy, add a splash of milk or half and half.
Instructions
Build your cocktail in a cocktail shaker (Splurge: this Irwin Ribera shaker is fabulous)
Add the coffee liqueur, pumpkin spice simple syrup and freshly brewed espresso into the shaker with a handful of ice.
Shake until chilled, about 7 seconds. 
Pour into a martini or coupe glass. 
Garnish with 3 whole coffee beans.
Make it a mocktail: Essentially espresso out of a fancy glass, but it tastes better that way. Swap the alcohol for a little extra espresso and enjoy!  
Apple Cider Sangria
We apple-solutely love a batch cocktail, almost as much as we love a good pun. This sangria is great for a group, or for yourself, if you love to make pour decisions. Alright, alright, enough of the puns, time to get (apple) sauced…
There are no words for how much we love Crow Canyon serveware!
Ingredients
1 750ml bottle wine–pick one you love on it's own, like Harvester Cabernet Sauvignon
2 cups apple cider 
½ cup orange juice
3 cinnamon sticks
2 apples
1 orange
½ cup brandy (1889 is budget friendly and you wouldn't even know it!)
Instructions
Chop the apple and slice the orange and add to a large pitcher.

Add in the cinnamon sticks, brandy, wine, orange juice and apple cider. 

Stir together with a spoon.

Let sit in the fridge for at least 3 hours–the longer, the better, you want to really let the flavors mingle! 

Pour into glasses and enjoy. 
Make it a mocktail: Trade the brandy and wine for 4 cups of grape juice and 3-4 cups of sparkling water. It's just as delicious, we promise. 
Cranberry Moscow Mule
Perhaps the best cocktail on this list. Why? Because you can measure with your hearts, and it still turns out amazing every. single. time. With the help of oh-so-festive cranberries, you can keep making this one into the holidays. Here's the recipe we never actually follow… 
We like to say that a copper mug is essential for this drink. It's not, but it takes it to a whole new level. 💯
Ingredients
2 ounces vodka (we love a good local Vodka, our MN go-to is Lake House)

2 ounces 100% all-natural cranberry juice

½ ounce fresh lime juice

3 ounces ginger beer (we are fans of Betty Buzz) 

Limes and fresh cranberries for garnish 
Instructions
In a copper mug, pour in the vodka, cranberry juice, and lime juice. 

Add the ginger beer.

Add ice and garnish with a lime wedge and fresh or frozen cranberries.
Make it a mocktail: No need for vodka in this mixture, it's just as good without it! If you're looking to add a little something, try mixing in a few ounces of sparkling water or zero-proof vodka.