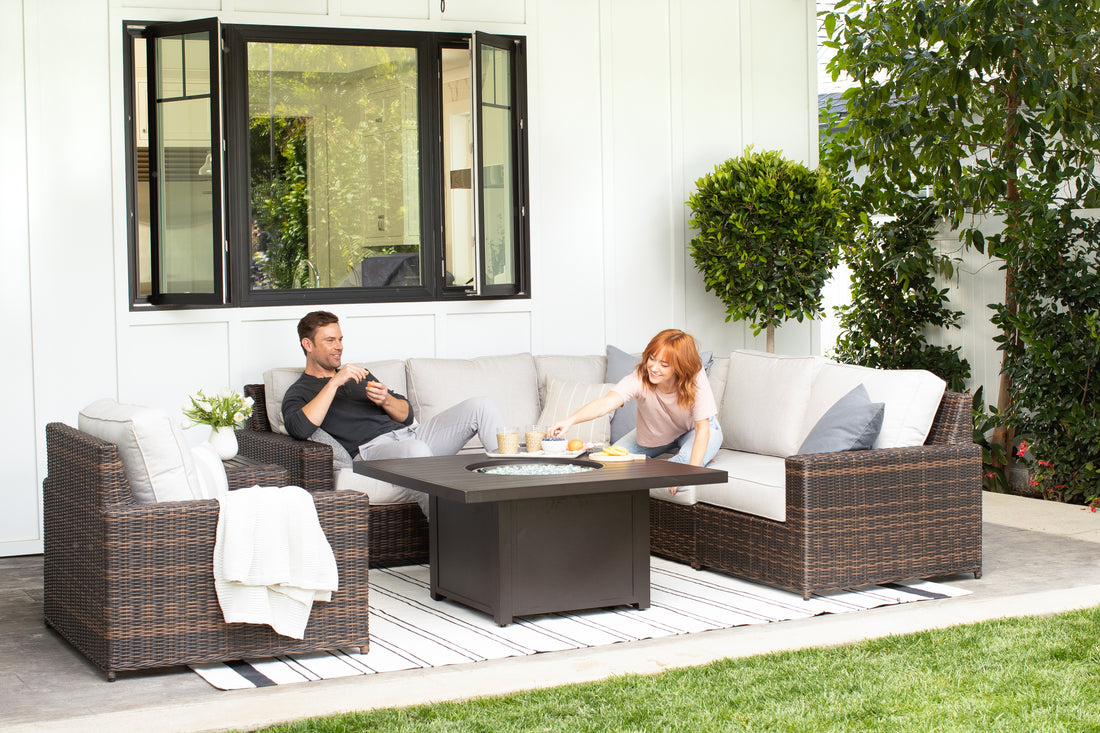 How to Furnish Your Small Outdoor Space
Copied to Clipboard
We love an outdoor living space, no matter what size. Not all of us have big wrap-around porches or backyards that go for miles, but don't let limited square footage hold you back from having your dream outdoor space. If your small space is causing big problems, you've landed in the right place. These simple tips will help you make the most of your space, without cramping your style.  
Envision your finished space.
First things first: Imagine your dream outdoor space. Is it a quiet space to read a book, or chat with a friend? Are you dying to host the neighborhood dinner party? Or maybe you need a new afternoon nap spot? Envisioning the functionality of your finished space is a great place to start, it will help guide you in the best direction that will meet your needs.
Dimensions are key.
Time to grab that measuring tape! Measure along all walls/edges of your space, making note of the placement and size of windows, doors, or any other permanent structures: columns, built-in benches, grills attached to gas lines, etc. We realize this example may be intimidating, but we promise that chicken scratch on a napkin will do!
Keep the size of your space in mind as you begin browsing furniture sets. Don't forget, you'll need room to pull out dining chairs, open doors, or comfortably walk around your space – a general guideline is to allow between 2.5 – 3 feet between your furniture and any other barriers. 
Multi-functional pieces are your friend.
With limited space, you'll want to find furniture that can do double duty. Swivel dining chairs are a great small-scale option for additional lounge seating, and dining benches easily allow a bunch of kids to belly up at the table while keeping visual clutter at bay. If you can't fit lounge and dining, opting for a fire table instead of a coffee table is a happy medium – the larger scale and raised height allows for a casual dining experience. Bonus: a fire by night! Even the smallest spaces can accommodate more than you'd expect if you consider multipurpose pieces.
No space should go to waste.
Corners often feel like dead space unless put to good use. If you have a grill, this is the perfect place to tuck it, getting it out of the central flow of the room while keeping it accessible. For those hoping to maximize seating, don't shy away from a sectional – although they sound big, they use up corners and walls while giving you an extra seat or two. Have a corner that is a bit larger? Add a sitting area with a conversational set. You gain a place to relax and a few additional seats for when guests arrive. If you use your space right, you won't even notice it's small.   
Less is more.
Don't get us wrong, we love elevating a space with good décor, but smaller spaces can feel cluttered quickly. Consider starting with a rug to ground the space and add a layer of dimension. Smaller space ≠ smaller rug, trust us on this one, a large rug will help open the space more so than a smaller one. Adding a few throw pillows is our favorite way to add a pop of color or texture, then planter pots filled with greenery, or a grouping of colorful flowers are the perfect finishing touch.
Feeling stumped? Luckily for you, we happen to have the best team of designers who can help find clever solutions for even the trickiest of spaces. Schedule a free design consultation today!