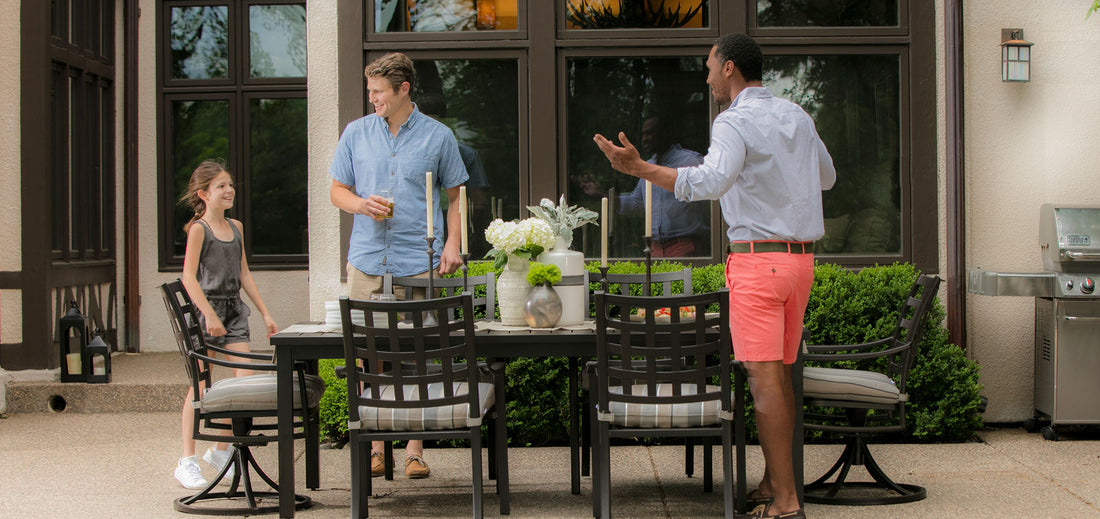 Three Easy Recipes to Make Your BBQ a Smash!
Copied to Clipboard
Our favorite part of the summer is sitting in the backyard with great music, good friends and plenty of food. That said, cooking can be a real pain and ordering can be quite expensive; so we scoured the internet for the best recipes for your grill and came up with three perfect options to make your BBQ feel professionally catered. 
Up first is our personal favorite, a Grilled Goat Cheese Crostini with a Tangle of Marinated Roasted Peppers. We found this recipe over at FineCooking.com. You can make this recipe as complex or as simple as you want. We opted for a simple version of the recipe, but feel free to jazz it up! 
What You'll Need: 
One French Baguette
Three Bell Peppers (Red, Yellow, Orange)
Goat Cheese
Butter
Three Tablespoons Balsamic Vinegar
Two Table Spoons Olive Oil
Salt
Pepper 
What You'll Do
Fire up the grill and place on medium-high. Place peppers on the grill until they are roasted (about 30 minutes) and yes this means they will be burnt.
Remove peppers from grill and place in a large bowl and cover. Wait 30 minutes, or until you can handle the peppers easily. Remove skin, stem and seeds from peppers and cut into thin slices. 
Place pepper strips back into clean bowl. Add balsamic vinegar, olive oil, salt and pepper to taste and allow them to soak for 30 minutes. 
Slice the baguette diagonally into 2 inch strips. Evenly coat both sides lightly with butter and place on grill, flipping after golden brown. Repeat. 
Spread teaspoon of goat cheese onto grilled baguette and top with roasted pepper tangle. 
Up next are the Vegan Rainbow Kabobs. We found this recipe on EmilyKyleNutrition.com. This recipe is really a show stopper! The perfect way to pack in your colors and nutrients! We altered this recipe a bit, and because they are kabobs, there is a ton of flexibility. Feel free to get crazy and throw some pineapple on these bad boys, or keep it simple like we did! 
What You'll Need: 
Kabobs:
Cherry Tomatoes
Orange Bell Peppers
Yellow Squash Zucchini 
Zucchini 
Eggplant
Purple Onion
Mushrooms
Kabob Skewers
Sauce:
5 Tablespoons Olive Oil 
5 Tablespoons Balsamic Vinegar
1 Teaspoon Vegan Honey / Agave (You may use regular honey) 
Crushed Red Pepper Flakes 
What You'll Do
Cut up fruit and vegetables into 1 inch cubes (roughly). Place on skewer in reverse rainbow order. Mushroom, Purple Onion, Eggplant, Yellow Squash Zucchini, Zucchini, Orange Bell Peppers and finally Cherry Tomatoes. 
Place on plate with lip and drizzle with sauce. Allow kabobs to soak for 10 minutes and place on grill. Cook until edges darken. Poor remaining sauce over kabobs before serving. 
And finally, the perfect burger. When done right, a burger can be a major game changer for a backyard BBQ. That said, it's easy to do it the simple way and top it off with ketchup and mustard and call it a day. We've decided to put a little more effort in and boy did it show. This is our Bacon & Brie Burger Topped with a Poached Egg. 
What You'll Need: 
1lb Ground Beef (Higher the fat, the better the flavor)
4 slices Thick Cut Hickory Smoked Bacon
Wheel of Brie Cheese
4 Eggs
2 Tablespoons
Mrs. Dash Original Seasoning Blend
(Yellow bottle) 
Brioche Hamburger Buns from
Whole Foods
What You'll Do
Mix in Mrs. Dash Original Seasoning into ground beef. Divide into four equal parts and roll into balls. Smash balls into flat Patty's. 
Cook on grill until desired temperature is reached. (We did 8 minutes on each side - high heat) 
While burgers you'll want to cook your bacon and poach your egg. To poach the egg place water in small sauce pan and achieve boiling temperature. With a spoon, spin the water counter clockwise and drop in egg. When egg whites turn completely white, remove poached egg from water and set into small glass. 
Place brioche bun on grill for 3 minutes.
Place bacon on burger and top with thick slices of brie cheese. Let warm for 2 minutes. 
Place burger on bottom bun, top with poached egg and viola!