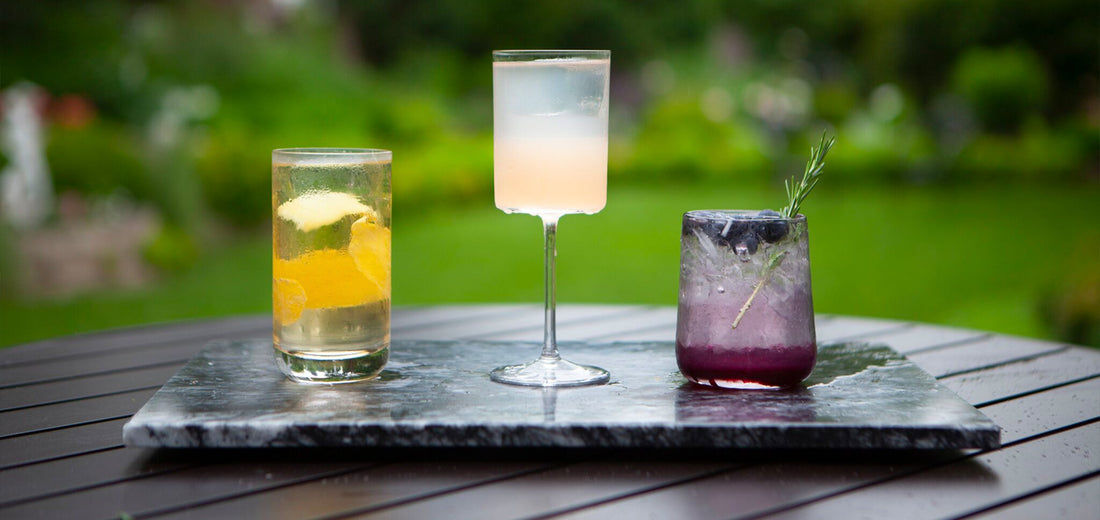 Our Favorite Summer Cocktail Recipes
Copied to Clipboard
With summer in full swing, we all love spending time outside with our friends and loved ones. 
We've partnered with our friend and mixologist Jason Westplate to create a few easy summer drinks that are sure to be crowd favorites.  Jason is one of the founders of Big Watt Beverage Co. and helped create the cocktail offering at Nighthawks Diner in Minneapolis, so we couldn't wait to come up with some light, refreshing summer beverages.
If you're looking for new furniture to host your group, we recommend the Elliot 8-Piece Sectional Set for communal deep seating or the Pepin Bar Height Dining Set for more compact outdoor spaces.

Blueberry Bliss: 
Summery and refreshing, but not too sweet.  The touch of lemon paired with aromatic rosemary create levels of flavor to this cocktail.
Ingredients:

2 oz vodka
1 oz blueberry syrup
1/4 oz lemon
1/4 oz simple syrup
4 oz soda water
How to make the Blueberry Bliss:
Combine all into an ice filled wine glass
Stir with a sprig of rosemary and add a few blueberries to garnish
The Perfect Paloma: 
The perfect patio drink made fresher by real ingredients, high quality grapefruit liqueur and bitters.
Ingredients:
1.5 oz Blanco Tequila

1/2 oz Pamplemousse Liqueur

1/4 oz simple syrup

2 oz grapefruit juice

1 oz soda water

Grapefruit bitters
How to make The Perfect Paloma:
Add tequila, liqueur, simple syrup and juice to a cocktail shaker with ice

Shake until chilled and strain into a glass with a single, large shard of ice

Top with soda water, add a few dashes of bitters and give a quick stir
Summer Whiskey: 
All the character and flavor of your favorite whiskey, but lightened by bubbles and citrus for the perfect late morning/early afternoon cocktail.
Ingredients:
2 oz of your favorite Rye, Bourbon or Scotch

4-5 oz of soda water
Lemon peel
How to make Summer Whiskey:
Combine all over ice in a Collins glass

Express the lemon peel and drop into the glass